With the launch of our 2020 National Retail Awards underway, we took the time to reflect on the winners of the year gone by, and how they have adapted, innovated and crushed the retail industry. The Party People Megastore, located in Drummoyne, scored a win and a finalist at the 2019 National Retail Awards.
Chief Party Dude Dean Salakas earned top honours in the Small Retailer of the Year category, and his deserving Store Manager Julie-Anne Benge was recognised as one of the top store managers in retail.
While you might already know Dean from his appearance on hit TV show Shark Tank, he's got a lot to say about retail as a career and where to from here.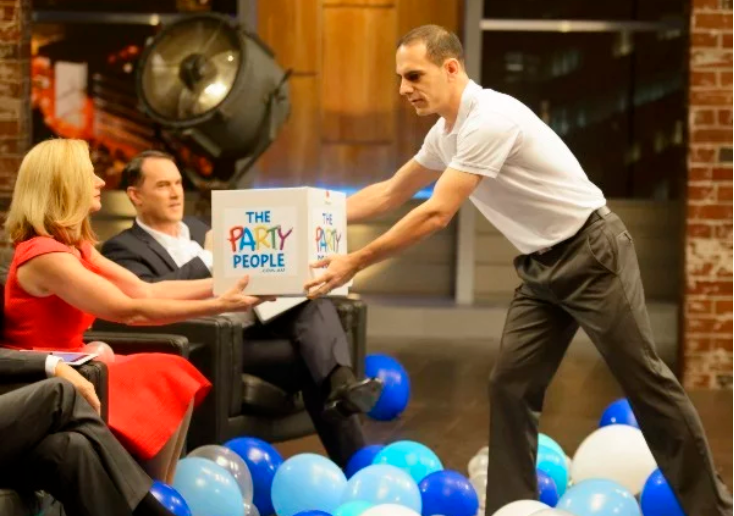 Where did your retail journey begin?
Thirty years ago Mala Salakas was Patches The Clown. Her passion for parties led her to open a small party shop called The Party People. In 2007 Mala wanted to retire so Dean and Peter Salakas, as brothers, took over the family business. In 2011, Dean and Peter opened Australia's largest party store in Drummoyne, New South Wales. They had hired Julie Benge as a retail assistant a few months earlier at their Sans Souci location in addition to a number of other employees as preparation for training them for the new store. Julie rose through the ranks in her first few months and the Drummoyne store opened with her as the Store Manager. Julie was also a finalist for Store Manager Of The Year.
What was the biggest challenged you have faced so far as a retailer and how have you overcome it?
Opening the Drummoyne store and moving a multi-million dollar internet business at the same time proved more challenging than we thought. We expected the Drummoyne store to take 3 years to achieve sales of half a million dollars and so the lack of volume meant that the internet business would be the primary activity in that location. As it turned out that store did over $1 million in its first 12 months and the business struggled with capacity, at one point having to stop taking internet orders to ensure we serviced everyone.
What is the greatest part of being in the retail industry?
Retail is constantly changing. With change comes opportunity. There is so much opportunity in retail which is really exciting.
Dean and Peter have been early adopters of innovative technology, including AR. Their pop-up Halloween store at Westfield Knox was a resounding success, allowing customers to try on a variety of costumes without moving a shred of clothing.
As a community, what do you believe retail can do to grow and overcome the adversity facing the industry?
As an omni-channel retailer we network in the community of pure-play online retailers, omni-channel retailers and bricks-and-mortar retailers. When we go to events where the focus is digital, the retailer community is very collaborative and open with lots of networking and sharing of challenges and innovations. When we go to events with bricks-and-mortar retailers, everyone seems a bit guarded and focused on doing their own thing.
This is really obvious after these events. At events with a digital focus, the retailers hang around and network. At events with a bricks-and-mortar focus, everyone is gone as soon as the event finishes.
The industry is constantly changing and the speed of change is rapid. To be in touch with what change is occurring and best understand what change will come in the future, retailers need to work together to help each other grow. The Party People has pioneered by doing just that, learning from others and keeping in touch with what others are doing in the broader industry.
#smallretaileroftheyear nabbed by @ThePartyPeople1 at the #2019nationalretailawards! pic.twitter.com/YiSwkGyP0d

— National Retail Association (@OZretailers) September 4, 2019
What does the future hold for you? What does winning Small Retailer of the Year mean for you?
The Party People recently opened a 3000m2 Halloween pop up store in Melbourne. The store is a test market activity to determine the Australian appetite for a Halloween retailer. We did this as a joint venture with Canadian Halloween pop up retailer Halloween Alley. Depending on the outcome from that test, we may roll out multiple Halloween pop up stores in 2020.
We also have plans to open party stores in 2020 and expand out retail footprint using our digital leadership which brings people into our Sydney stores in other cities around Australia.
Fortunately for us we have two very exciting and positive growth strategies in front of us and we will decide later this year which we will focus.
Julie Benge (Store Manager) has really pushed to make The Party People megastore the best party store in Australia. She is the one who really deserves the praise for this award. While Dean and Peter Salakas steer the ship, she makes it fly! To be named not just best party store but best small retailer in Australia, is truly a recognition she deserves for all her hard work. There is a real buzz and excitement in the team from wining the award. We celebrated in the store the following week we raffled off the prizes to the team. Everyone is super proud to be given this award for their store and its brought us all closer together as a team.