The National Retail Association has been monitoring the outbreak of COVID-19 (previously known as Novel Coronavirus) from January 2020. We have compiled resources from the Department of Health, guides on how to minimise the spread of the virus, and best practice for workplace health and safety for your employees and customers.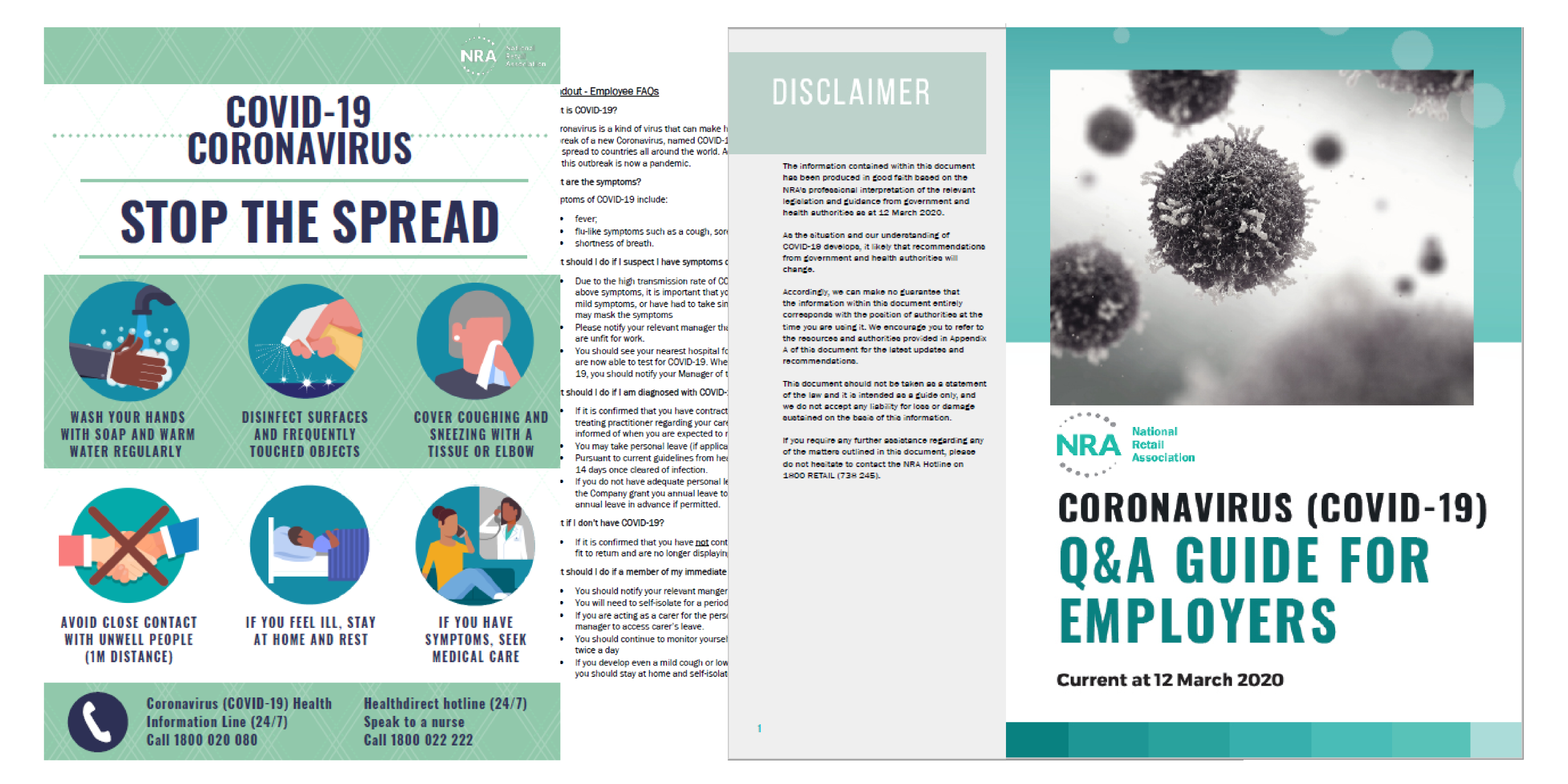 Download your FREE COVID-19 Employer Resource Pack
The Employer Resource Pack includes:
Coronavirus (COVID-19) Q&A's for Employers
Template Policy for Epidemic / Pandemic
Template Employee Handout for Employees
National Retail Association "Stop the Spread" Poster
The Federal Government announced the following facilities will be restricted from opening from midday local time 23 March 2020:
Pubs, registered and licenced clubs (excluding bottle shops attached to these venues), hotels (excluding accommodation)
Gyms and indoor sporting venues
Cinemas, entertainment venues, casinos, and night clubs
Restaurants and cafes will be restricted to takeaway and/or home delivery
Religious gatherings, places of worship or funerals (in enclosed spaces and other than
very small groups and where the 1 person per 4 square metre rule applies).
This is the list provided by the Federal Government, however States and Territories have the power to make variations. Please see the State and Territory announcements below.
Measures to slow the spread of the virus include:
No non-essential gatherings of more than 500 people outside or more than 100 people inside.
All non-essential indoor gatherings of less than 100 people must have no more than one person per 4sqm. All Australians should expect their local businesses to be following this rule.
Where possible, keep 1.5 metres between yourself and others.
Avoid non essential travel.
Restrictions on entering aged care homes to protect older Australians.
Restrictions on entry to remote indigenous communities.
As of 23 March 2020, there have been 1,609 confirmed cases of COVID-19 in Australia:
19 in Australian Capital Territory
669 in New South Wales
5 in Northern Territory
319 in Queensland
100 in South Australia
22 in Tasmania
355 in Victoria
120 in Western Australia. 
Further details:
Of the 1,609 confirmed cases in Australia, 7 have died from COVID-19 while 69 have recovered. Jurisdictions have tested over 127,000 people.
Further information regarding the epidemiology of cases in Australia is provided in the weekly epidemiology reports.
For questions about testing or the welfare of people with the virus, contact your state or territory health authority.
Across the world there have been more than 283,100 confirmed cases of COVID-19 and more than 12,400 deaths.
The outbreak of COVID-19 caused a rush of shoppers trying secure essential items like toilet paper, pasta, rice and non-perishables. This has led to product moving faster than it can be restocked, and empty shelves. Because of shortages, unit limits, and growing concern, some customers are reacting aggressively.
CUSTOMER ABUSE DIRECTED AT STAFF SHOULD NEVER BE TOLERATED.

A procedure should be in place for when and how to contact management or supervisors for assistance with an aggressive customer. If the matter escalates then the relevant security service used by the employer (if any) should be contacted. If a conflict occurs between customers that is escalating towards a physical confrontation then the police should be contacted. If an employer is selling a product that is in particularly high demand then it may be useful to develop a guidance script for employees to assist them with explaining to the customer the reasons behind the policy and why it is occurring.
Employers should consider supporting employees who have been subject to verbal or physical abuse through an employee assistance program that provides access to counselling services.

Non-citizens and non-residents have been banned from entering Australia. The ban commences at 9pm on Friday, 20 March 2020.
Australian citizens and residents returning to the country will be required to self-isolate for 14 days.
A ban on cruise liners from foreign ports arriving at Australian ports for 30 days.
The travel ban on Australians has been raised to Level 4. The advice is do not travel abroad