An excellent HR Professional is worth their weight in gold. Human resources managers plan, direct, and coordinate the administrative functions of an organization. They oversee the recruiting, interviewing, and hiring of new staff; consult with top executives on strategic planning; and serve as a link between an organization's management and its employees.
It's a big job! Which is why the HR Professional of the Year is a highly regarded award at the National Retail Awards. 2019 saw Amart Furniture's Nick Shelton take the top prize, and with good reason! And as we gear up to start accepting entries for the 2020 Awards season, we wanted to catch up with Nick to discuss his career in retail.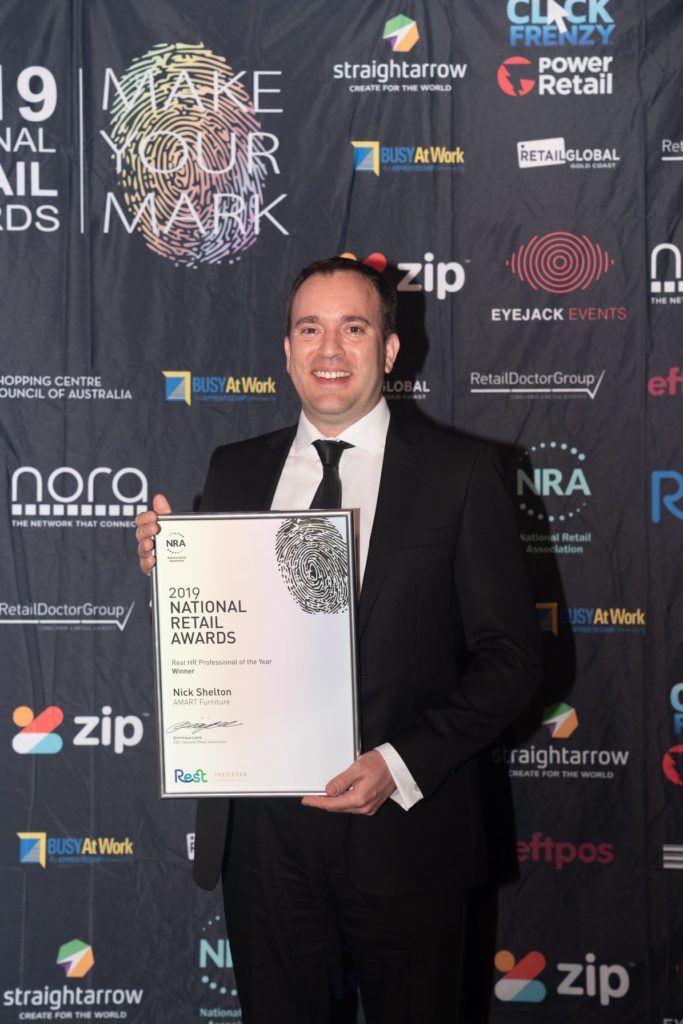 Where did your retail journey begin?
My retail career started when I was 14 years old.
It's a little embarrassing but I was the mascot for Baskin Robbins. To fulfil your imagination, this involved me dressing up in a 2-metre tall foam-suit in the shape of a pink spoon.
I was a shy teenager but I owned my spoon persona! I would strut around Westfield Shopping Centres across Brisbane handing out discount coupons for ice-cream.
I was paid $4.31/hr which, to me at the time, was thrilling and I absolutely loved it.
What was the biggest challenge you have faced so far as a retailer and how did you overcome this challenge?
The biggest challenge and a common one in the retail industry is how to engage a geographically diverse workforce. Consequently, communication and training can be quite fragmented, diluted and costly. It can also result in a "top-down" mentality which creates disconnect between senior leaders and their teams.
Historically, retailers had to rely on a traditional means to engage their teams; such as newsletters, noticeboards, memos, faxes and emails.
Fortunately, over very recent years, technology has caught up and now there is a plethora of simple and accessible systems at our fingertips; you just need to have a clear vision on the purpose.
I've seen exceptional adoption of both top-tier systems like Yammer and MS Teams along with free app-based systems such as WhatsApp. Embracing these platforms as communication and training tools can radically benefit businesses of any size.
What is the greatest part of being in the retail industry in the 21st century?
I believe the retail industry has always been at the forefront of embracing social changes; specifically around diversity and inclusiveness. Retail affords and encourages so much individual expression which is so important when building high performing teams and growing exceptional leaders.
As a community what do you believe retail can do to grow and overcome the adversities the industry currently face?
In a nutshell, innovate and don't stagnate! The obvious misconception however is 'change for the sake of change'. Rather, a good approach I find when implementing a new system or process is make sure you fail fast, learn quickly and adapt.
You need be curious and ask plenty of questions from the teams who interact directly with your customer.
What does the future hold for your business? What does winning your award mean for you?
The future for Amart Furniture is very exciting. We recently announced our "FY20 Initiative Runway" to our teams with utter passion and determination. The FY20 Initiative Runway is a strategic plan for our business which articulates key projects for the years ahead. The pace of change and the energy that comes from an Initiative Runway is truly inspiring and the results speak for themselves.
Winning the award was an incredibly humbling experience and one of the proudest moments of my career; which I owe to my team. Without a truly passionate, dedicated and awesome group of people this accolade would not have been possible.
Where do you dream your career in retail will take you?
The key to turning a dream into a reality is having a plan.
From my experience, I know that investing in yourself and steering your own journey must be purposeful. Take nothing for granted and always be receptive to feedback.
I'm privileged to work in such an exciting industry with incredible people. I wouldn't change it for the world, this is something special!