20 nervous young professionals stood centre stage at the National Retail Awards on Wednesday 4 September 2019. When NORA Network Founder, Paul Greenberg, read out the name of the winner (after a dramatic pause) the crowd went wild as a young man in a stunning sequined jacket walked up to the podium to accept his prize.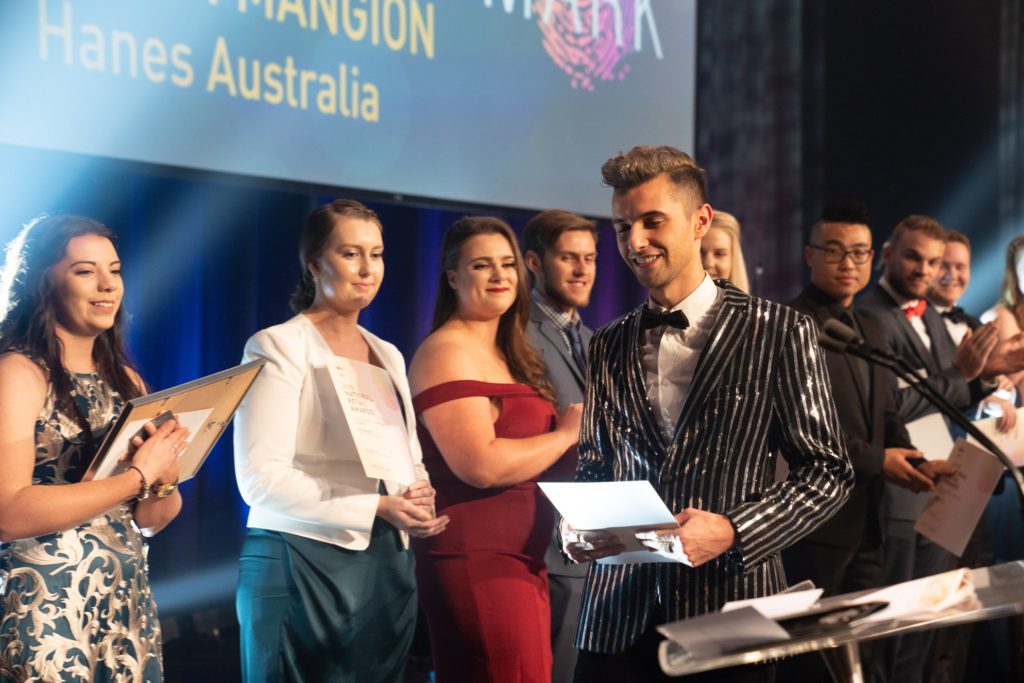 The 24-year-old Assistant Buyer at Hanes Australia blew the judges away with his passion, creativity and a business improvement plan featuring ambitious plans to tackle the tween clothes market.
Stephen won a trip to New York City last month, where he accompanied National Retail Association CEO Dominique Lamb to the NRF Big Show. We asked Stephen what impact winning Young Retailer of the Year had on his life and career, and what's next.
Where did your retail journey begin?
My retail journey began six years ago at my local shopping centre when I was looking for a job to work on weekends while I finished high school. I knew nothing about customer service and definitely didn't understand the true size of opportunity present in the industry, or how invested I would become in it. Fast forward six years and several attempts at alternate career paths before making the realisation that a career in retail buying was for me – and I've never looked back.
What was the biggest challenge you have faced so far as a retailer? How did you overcome it?
One of the challenges of being a young retailer is earning credibility quickly among people who have been in the game a lot longer than you. Words of wisdom that always stuck with me were to always be in the driver's seat of your own journey and to be unafraid to challenge the paradigms. Retail can be turbulent at times and remaining stagnant and unchanging doesn't always drive a positive customer experience.
What do you think is the best part of being in retail?
It's a really exciting time in retail in Australia, particularly witnessing how global trends cascade through our market and impact us at a local level. It's clear that we are seeing a big cultural shift from the way people live their lives in terms of social, environmental and ethical awareness, and understanding how that impacts the way consumers spend is fascinating. The industry never ceases to surprise me, and with a combination of both big-box global retailer expansion and smaller-business disruption, it's really liberating to witness the innovative methods brands are utilizing to speak to these topics with consumers.
As a community, what do you believe retailers can do to grow and overcome the challenges we're facing?
The most important thing the community can do to overcome adversity in the industry is to listen to the customers. More than ever before our customers are faced with an array of values and concerns that they advocate or voice concern for. Combine this with busier schedules and demands for simplified and faster processes throughout their lives and it's clear that we need to create trust and purpose in our brands, and shopping experiences that are more customized and require faster engagement from the consumer.
What does winning Young Retailer of the Year mean for you?
The award was an enormous achievement and one that I am very humbled and gracious to accept. I hope my story inspires other young people to believe in retail as an exciting and prosperous career path. I love this industry and am confident that the award will provide the platform for me to elevate my reach and drive positivity for the retail industry and customers everywhere. The future for me is still a bit of a mystery. I've just finished off my business degree and am off enjoying a well-deserved adventure for a few weeks. I'll re-group when I return!
Where do you dream your career in retail will take you?
I have always had an undeniable attraction to New York City and the hive of retail activity that is animated through the streets. My ambition is to take my knowledge of Australian retail and witness first-hand the industry abroad.
---
Stephen has been an incredible ambassador for Australian retail in New York City, and we are proud to have him as an Awards alum. Enjoy some happy snaps from his trip to NYC with Dominique Lamb!